Prom Flowers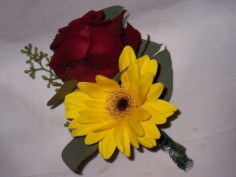 "CORSAGES Prince George BC" directly from AMAPOLA BLOSSOMS FLORISTS, FLOWERS, ROSES
"Prince George BC CORSAGES" from AMAPOLA BLOSSOMS FLORISTS, FLOWERS, ROSES
" PROM CORSAGES Prince George BC" directly from AMAPOLA BLOSSOMS FLORISTS Prince George BC
"Prince George BC PROM CORSAGES" from AMAPOLA BLOSSOMS FLORISTS, FLOWERS, ROSES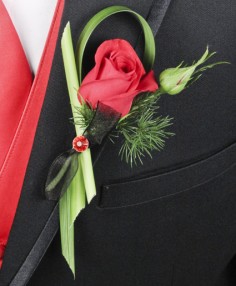 Dare to be noticed and remembered! Amapola Blossoms will show you how!
If you're not sure which flower to pick for your partner's boutonniere, let AMAPOLA BLOSSOMS FLOWERS's expert florists lend a hand. We will help you choose the perfect roses or flowers to compliment both his and your look.
Whether it be a classic red rose, a scented white gardenia, or something totally original, our professional florists know just how to create a boutonniere to suit your style and wardrobe.
Scan a photo of your outfit or drop by our Prince George flower shop and show us or describe to us what you will be wearing and we will give you all the assistance you need to personalize your special day and say it all with flowers.
Let his boutonniere and your corsage make a statement about your originality and style.
When you wear your fragrant, elegant and sophisticated Prom Corsages and Boutonnieres from Prince George's Amapola Blossoms Flowers you'll definitely stand out from the crowd!
Telephone 250-596-9005 or 1-800-663-4468 to find out more.
Why stop at just a corsage and boutonniere? A floral hairpiece and handheld bouquet are additional perfect accessories to embellish your high school leaving prom. Call AMAPOLA BLOSSOMS FLOWERS Prince George BC Today! at 250-596-9005 for your handheld bouquets or hairpieces.
We can match both the floral hairpiece and bouquet to your corsage and his boutonniere for a truly chic, designer flower look.
Or you could choose different but toning flowers that are tied together by their shared colour, or similar greenery, with combined sweet-scented fragrances that will perfume the air as you pass.
Classically elegant or fun and playful – we can complement any look you choose.
Be remembered! Get noticed! Do you want the ocassion to be special - Order Flowers, Roses, and more from your Prince George BC Florists & Flower Shop AMAPOLA BLOSSOMS FLOWERS Prince George BC with same day delivery.